Professional Fire Damage Restoration Specialists Give Tips on Cleaning Smoke and Soot Damaged Items in Leominster
10/16/2019 (Permalink)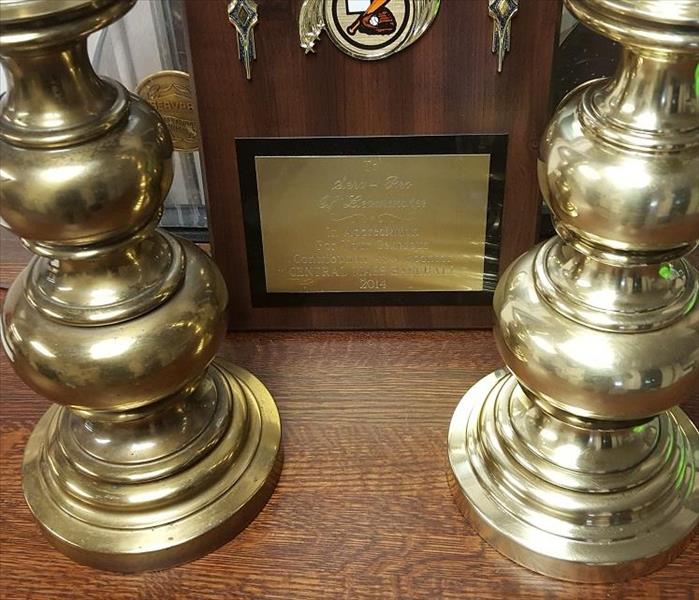 This is a before and after pic of smoke damaged candlesticks. We were able to restore both completely.
Cleaning Household Goods Soiled by Smoke and Soot a Major Aspect of Fire Damage Mitigation Services in Leominster
Helping your family's daily routines re-established after a disaster is one of the goals at SERVPRO. We understand that the ongoing stress that comes with significant disruptions in Leominster can reach into areas that previously seemed stable and rock-solid. Once-minor things can become much more critical in the wake of a crisis. We help stabilize the situation in numerous ways, including restoring the items your family used regularly.
The varying degrees that a Leominster home might show fire damage like smoke and soot can range from items too filthy to touch to hardened plastic that melted onto surfaces, or scorched others. Cleaning methods vary, depending on soot type and density, as well as the residues left behind.
Large, flat, smooth surfaces like untextured walls and ceilings need vacuuming and then wiping down with a dry sponge. This method does not work well enough for most household items that might contain grooves, depressions, intentional pitting, or other textures. Soot can work on these surfaces. The microscopic particles in soot and the oily liquid residues can render regular soap and water too weak to clean anything effectively.
We use several different tools to strip fire damage soiling away from the surface and get things back to their preloss condition. Many of these can reach the debris from a fire's smoke in tiny places on memorabilia from older generations or tourist traps visited on vacations. Brushes pull soot off lacy ribbons decorating dolls and other porcelain items. Our handheld vacuums free heavy draperies of smoke clinging to the fabric. Sponges gently rid chrome fixtures in your bathrooms and kitchen of blackened soot and keep them from additional damage.
Another method used requires our ultrasonic water bath equipment. The difference in a short period makes in a soot-covered plate or vase is quite striking. After our crew packs up the items for cleaning and transports them to our facility, other members of our skilled team unpack them and begin organizing the items inside the basket.
The water bath only requires a few minutes before all of the soot disintegrates. The bubbling action created by the ultrasonic waves works at the microscopic level and removes even embedded soot from hairline cracks and the tiniest spaces. While the surface of the water looks like nothing is happening, adding a hollow ball that floats to the water reveals the movement below the surface. This movement is a very effective method, and we use it to help our customers restore belongings and minimize the number of items they need to replace.
SERVPRO of Fitchburg-Leominster wants to help your family recover from the implications of disasters, including those related to fire damage. Our building services crew helps restore structural components, including HVAC and electrical systems, but we know personal belongings are equally important. Call (978) 537-1500 when your residence in Sterling or Harvard and its contents need skilled cleaning and restoration professionals.
Click here for more about Leominster.