SERVPRO Takes Immediate Action In Restoring Your Leominster Home After Water Damage
6/13/2019 (Permalink)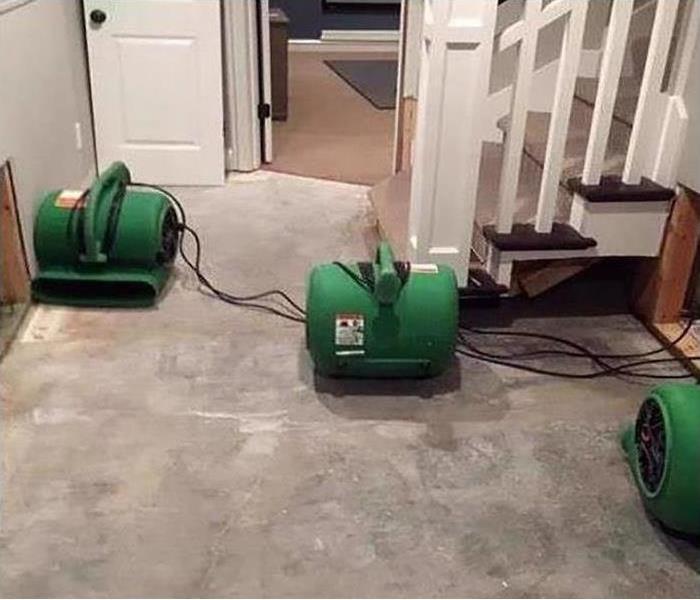 We will use our specialized inspection, extraction, and drying equipment to restore your home to pre-damage condition.
SERVPRO - Professional Water Removal For Protecting Leominster Homes
Every Leominster home has the potential for a water intrusion event. Most of these incidents happen from a plumbing failure or a faulty appliance like a dishwasher. Far less likely is flooding coming in from the nearby Saw Mill Pond or Notown Reservoir.

Since water removal in Leominster is so important to restoring a home, it is part of the emergency services SERVPRO performs for every home. Each team of trained specialists breaks it down into two parts, removing standing water, and extracting water.

If the water is two inches or more high, specialists use one of the commercial pumps in our equipment inventory. Depending on the size of the home, they can pump the water out in usually a day or two. After finishing with the pumps, team members examine below the floors for additional water. If any is present, they remove it using smaller pumps similar to a water-vac.

Next comes the extraction process. Technicians use moisture meters to check how much water penetrated floorboards, carpets, and other parts of the home. After determining the extent of the water damage, other SERVPRO specialists move unaffected furniture out of the home and place affected pieces on blocks or pallets to dry.

Once technicians move the furniture, they begin drawing water from carpets and between floorboards using extraction wands. Team members can adjust the vacuum speed and use a built-in heating element to quickly and carefully dry the carpet without causing secondary damage to the carpet layers and the individual floorboards.

After extraction, technicians detach the carpet and raise it for drying, using a combination of air movers and exhaust fans to force dry air over and under the carpet while drawing the moist, cooler air out of the layers. At the same time, they also remove and dispose of the carpet pad since it deteriorates almost immediately after absorbing too much water.

These are two of the immediate actions SERVPRO of Fitchburg-Leominster takes return every home to a dry, livable condition. If your residence has water, excess humidity, or a lingering odor left behind after a water intrusion event, call us today at (978) 537-1500 to set up a service call and start the removal process. We are here for you.
See more about Leominster.