Flood Damage in Sterling? It's Easy If You Do It Smart With Team SERVPRO
4/7/2019 (Permalink)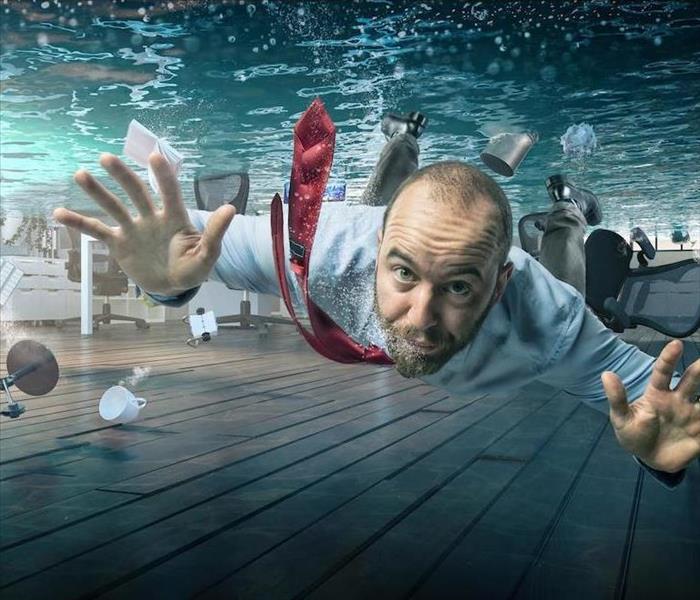 Flooding and the resulting flood damage can happen quickly. Contact SERVPRO for effective water removal and remediation efforts.
Emergency Repairs and Mitigation for Flooding in Sterling Homes
Flooding can occur with little warning and often results from storm damage occurring to the exterior of your Sterling property. Without the right emergency response from competent professionals like ours, this water loss damage can spread quickly throughout your home and affect a broad area. Saturation can begin to compromise elements like drywall in as little as a day, making the need for efficient and effective mitigation and recovery solutions vital for your property. Our professionals can help.
While flooding can affect your home in many ways, the only effective means of preventing further damage to the property is sealing up vulnerabilities temporarily. Our SERVPRO rapid response team for storm damage in Sterling includes our qualified and licensed contractors, ensuring that experienced hands arrive fast to begin boarding and tarping services for your house. These temporary measures can stop the flow and penetration of floodwater into your home so that mitigation work can begin.
Our mitigation process has gotten designed to save our customers time and money. From thorough inspections with moisture detection equipment to choose the ideal locations for extraction and drying equipment, to these efficient machines and tools used to remove excess water and eliminate saturation for structural elements and construction materials, we can make a difference quickly for your damaged home. This process also includes debris removal and controlled demolition overseen by our contractors to ensure that reconstruction to follow is efficient and cost-effective.
With keeping construction in house, our customers do not have to seek out reputable contractors on their own. We have experienced professionals in our SERVPRO team that can not only perform these emergency repairs, but also quickly organize and begin full-scale reconstruction, remodeling, and repairs following substantial storm damages.
While flooding can present many obstacles to overcome, including damage to the exterior of your home, our comprehensive restoration approach can help you through every facet of flood recovery. You can count on our SERVPRO of Fitchburg-Leominster rapid response team to make flooding "Like it never even happened." Give us a call anytime at (978) 537-1500.
Click here for more information about the city of Sterling.